HOW TO MAKE PEOPLE REALLY FEEL LOVED
Hardcover
nn
ISBN 1-56955-013-1
List Price: $12.99
Website Price: $11.04
Real love...we all want it, and we all have trouble giving it sometimes! In How to Make People Really Feel Loved, Charlie Shedd offers wisdom for showing God's love to those who need it most: your spouse, your children, other family and friends, co-workers and acquaintances, those who are hard to love, people who you would like to reach for Christ. this collection of wisdom is topped off with seven positive affirmations—one for each day of the week—that you can incorporate into your own life. Follow these affirmations and you will discover that it is possible to love the whole world—one person at a time.

---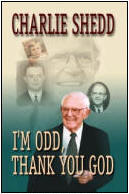 I'M ODD, THANK YOU GOD
Quality Paperback
nn
ISBN 0-929488-74-X
List Price: $9.95
Website Price: $7.46
I'm Odd, Thank You God is not about being "different" for the sake of getting attention at any cost. There's no merit, Dr. Shedd believes, in being strange just to be strange. However, with his unusual and fascinating story-telling skill, he narrates tales out of his own life—from early childhood to his eighties—that wonderfully reveal how rewarding it can be to have the character and courage to be different for the sake of doing good...or for the sake of some just plain wholesome pleasure. Though this is not a formal autobiography, it is the closest thing to the story of his life that Charlie has written. I'm Odd, Thank You God is, page by page, typical Charlie Shedd reading entertainment that is chock full of life-lessons you will use the rest of your days.
---
BRUSH OF AN ANGEL'S WING
Hardcover

ISBN 0-89283-854-X
List Price: $14.99
Website Price: $11.24
Brush of an Angel's Wing vividly chronicles angelic "sightings." Through stories from his own life, Charlie Shedd gives us a glimpse of what a brush with an angel looks and feels like. He describes nick-of-time rescues, impossible feats of strength, supernatural perceptions, divinely orchestrated situations—all of which may be ascribed to the wisdom and service of angels.
---

WHAT CHILDREN TELL ME ABOUT ANGELS
Hardcover

ISBN 0-89283-901-5
List Price: $12.99
Website Price: $9.74


Does God have a entire retinue of angels that works mainly with children?
Bestselling author and Professional Grandfather Charlie Shedd thinks so and presents this charming collection of stories about angelic interventions in kids' lives.